FIT LAB PHILOSOPHY
It's not rocket science, but its still science. The Fit Lab believes the best fit is achieved with a combination of analysis and personal care. Our techs are trained to put an emphasis on your goals and preferences, ensuring you leave with a fit that yields exactly the benefits you want it to.
ANATOMICAL ANALYSIS
This part of the equation is all about determining what unique properties of your physique and range of motion are impacting ride quality. Fit Lab technicians focus on putting you in the position where you can create the most force on the pedals, and maintain that force for the longest possible time.
INDIVIDUALIZED FOCUS
Individualized focus means engaging in dialogue about your goals, what's holding you back, and how you would like to see your riding or ride quality improve. Fit Lab is all about getting the right setup for you and only you, and that begins with the right questions
CRITICAL THINKING
Fit Lab is evidence based, but data is analyzed on a case-by-case basis that is guided by the customer's focus. We have amazing technology to compile data on every element affecting comfort and performance, but at the end of the day this data is only as good as the technician who has the critical thinking skills to apply it to your situation.
FIT LAB PROCESS
Fit Lab couples a personal understanding of your relationship with cycling and your bicycle with advanced sport science technologies and quantitative analysis. Fit Lab considers both preference and performance, making it applicable to anyone who is hoping to get more enjoyment out of their bicycle.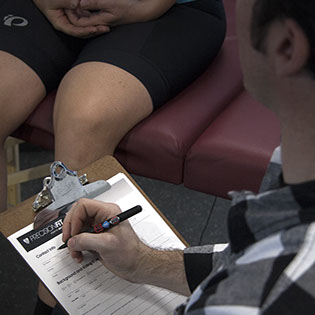 INTERVIEW
During the interview, the Fit Lab technician will get an idea of who you are as a rider, and who you want to be. The interview considers physical fitness, the type of riding you primarily do or want to do, and any current or past injuries you might have. We'll ask about where you experience discomfort on the bike. Our technicians are first trained to listen, and this is where the process is tailored to you.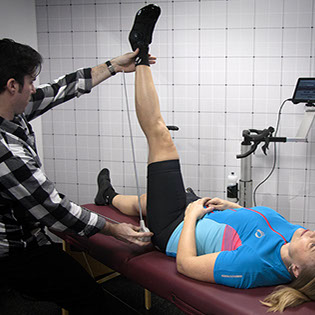 OFF-BIKE ASSESSMENT
The off-bike assessment is an exhaustive series of measurements and tests that determine proper sizing in addition to providing a baseline measure of strength and flexibility. The Fit Lab technician will evaluate alignment and size of critical body parts, and take an assessment of your posture. You will perform basic strength exercises and flexibility tests to see what type of set up your body can actually handle. This accurate sense of where you are physically will guide the technician as you move onto the bike.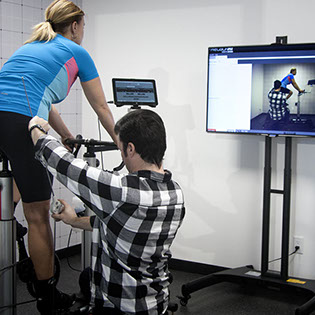 ON-BIKE ASSESSMENT
With a thorough understanding of your background, goals, and physiology, it is now time to step onto the bike. The on-bike assessment works from the ground up, evaluating proper positioning of the saddle for optimal knee bend. The technician will set up your cleats, ensuring that you are centered over the pedal and getting maximum power output with each stroke. They will evaluate your posture and adjust handlebar length and position to give you a neutral spine, the most comfortable and efficient position to sit on the bike.
MEDICAL ISSUES IN THE SADDLE
Fit Lab technicians have real hands-on bike knowledge, but sometimes a clinical level has to be considered. All humans have a pelvic floor structure. Within this delicate area, we all have the potential for injury, scar-tissue and muscular imbalance. In the fit lab, we have sourced the definitive medical experts in the pelvic floor field and have been able to see results and get riders back in the saddle. So if you have pelvic floor numbness, nerve pain, tingling, phantom sensations and or other severe symptoms, please don't give up. We are happy to recommend some professional resources.
FITTING RATES

CLEAT PLACEMENT

$49
This is a ½ Hour (approx.) process to properly position your cleat to prevent any soreness or numbness in the feet.

BASIC SIZING ANALYSIS

$99
The basic sizing analysis is a 1-hour (approx.) analysis including: Saddle height, saddle fore and aft and cockpit set-up. This will give you peace of mind knowing your bicycle is properly set-up for you and prevent against any long-term injuries due to improper positioning.

SADDLE PRESSURE ANALYSIS*

$149
This is a 1-hour (approx.) saddle pressure analysis using the Trek Saddle Pressure mapping System. This includes finding your correct width and shape. We will provide up to four saddle options and consultation.

PRECISION FIT (ADVANCED CYCLING ANALYSIS)**

$389
A Precision fit is a 3-4 hour comprehensive analysis including: detailed interview, history and goals, flexibility and core strength assessments, foot mechanics evaluation, 2D analysis, saddle pressure mapping, consult/product recommendations and equipment adjustments.
* Saddle Pressure Analysis is an in depth process to finding a better fitting saddle. This analysis is not a bicycle fitting or a sizing. The only adjustment that will be made to your bicycle is to keep your current saddle height and distance from saddle tip to handle bar. We highly recommended that if you are looking for serious comfort that you do the advanced cycling analysis.

** Advanced Cycling Analysis can be done to prior to bicycle purchase to find the bicycle that will perfectly fit your needs.